ATC: Introducing the Rookie Card
Collect music's best moments
AlbumTradingCards (ATC) aspires to enable a new form of connection between artists and fans. By creating a trading card as the gateway to your favorite artist's worlds, ATC hopes to chip away at the barrier between artists and fans to create value dynamics that preserve genuine collaboration and produce experiences that will be treasured for the long term.
Our Roots

ATC creates trading cards that merge an artist's physical and digital worlds. We originally started by exclusively leveraging blockchain technology to create a one-of-a-kind collectible experience. However, as the web3 industry began to rapidly evolve, we saw an opportunity to shift our focus towards becoming a trusted partner of established web3 and other digital companies, utilizing our expertise in design and manufacturing (of 7 years) to create exciting products that employ the latest technologies in the space.
 
Our Mission/Vision

The music collectibles market has experienced 221% growth in the last 3 years but has yet to be consolidated under a single ecosystem or brand, and artists are in need of new models for fandom, connection, and merchandise. ATC uses collectibles to help artists form novel connections with their audience, increase brand awareness and open up new revenue streams.

We are doing this by laying the foundation for an ecosystem where fans can buy, trade, sell, and co-create an artist's most iconic moments and milestones, and we are doing this by repurposing a classic collector's item, the trading card.

Why Trading Cards?
The sports trading cards market alone is a $5B industry, yet this classic collector's item hasn't been brought to music in a meaningful way. ATC provides a low-cost, high-margin product for recording artists that can increase fan engagement and foster a sense of community.

Mikey Ferrari: Rookie Card
"Mikey Ferrari is a Los Angeles based alt-pop singer-songwriter who discovered music out of self-exploration. Experiencing challenges as an adolescent, Mikey found himself secluded in Montana where music became not only a means of passing time but a means of genuine expression.
Mikey's debut EP is titled "SPACEBOY" and serves as a biographical introduction to who he is as an artist as well as a human being. Produced with Adam Castilla (The Colourist) and mixed by Andrew Dawson (Rolling Stones, Kanye West, etc.), the experience of "SPACEBOY" is sonically immersive creating an entire world representative of Mikey Ferrari." He is now opening for Sam MacPherson on tour. 
Be an early supporter of his journey by owning one of his rookie cards sold exclusively at shows.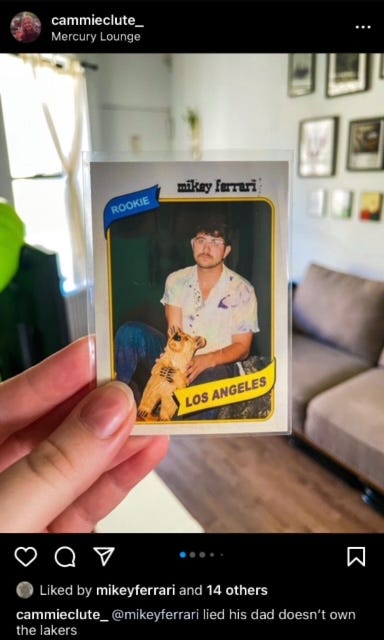 When users scan the QR code on the back, they will have the opportunity to upload their favorite moments from the shows.